Want a dazzling white smile but don't want to use products full of dangerous chemicals and unknown ingredients? There are lots of effective, safe ways to naturally whiten teeth at home.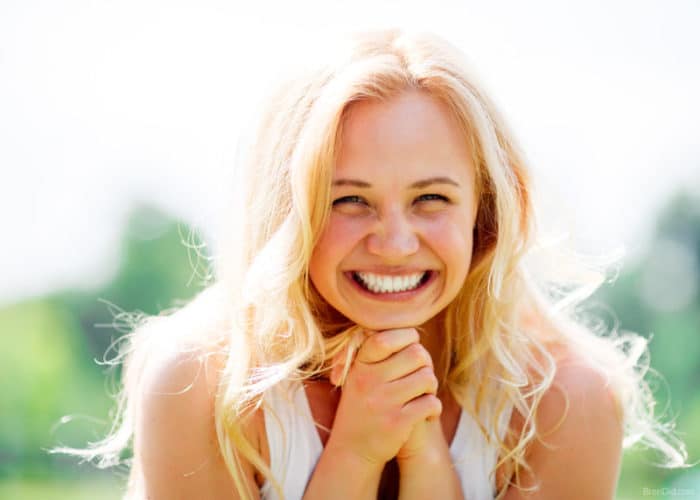 This post contains affiliate links. They don't cost you a thing, but help us bring you natural body care tutorials. Read more at Policies & Disclosures.
According to the American Academy of Cosmetic Dentistry, most people want their smile to be whiter and brighter.  It's no surprise that dental whitening and at-home tooth whitening treatments have become so popular!
But beware; using a commercial dental whitening product come with its own set of problems:
They are expensive. Tooth whiteners can set you back $15 -$45 for store bought treatments and an average of $250 for in-office treatments.
They are full of artificial ingredients and man-made chemicals. Tooth whiteners and whitening toothpastes can contain artificial fragrances, artificial flavoring, plastic polymers, sodium laurel sulfate, triclosan, alcohol, hydrated silica, and other ingredients that I do not want in my body!
They can be irritating to teeth and gums.  Commercial tooth whiteners can cause tooth sensitivity or pain, an increase in hot or cold sensitivity, and gum irritation.
HOW TO NATURALLY WHITEN TEETH AT HOME
Luckily there are lots of home remedies you can use to brighten your smile that are affordable and easy. Learn how to naturally whiten your teeth at home with these 14 effective, all-natural solutions:
1 – BAKING SODA AND HYDROGEN PEROXIDE PASTE
What to do: Create a thin paste by mixing one teaspoon of baking soda with hydrogen peroxide in a small dish, use a soft toothbrush to apply the paste to teeth and brush gently for 2 minutes. Rinse and brush with regular toothpaste.
Why this works: Hydrogen peroxide is the bleach used most often in commercial teeth-whitening products, it bleaches stains from teeth to restore their natural, white color. Baking soda is mildly abrasive which helps gently buff away surface stains and thicken the peroxide so it stays on the surface of the tooth longer.