Weirdo universe

There's no questioning the fact that the universe is weird. Just look outside and you'll see all manner of strange, self-reproducing flora and fauna, crawling upon a blue ball of semimolten rock covered in a thin, hard shell and blanketed by a tenuous film of gases. Yet our own planet represents a tiny fraction of the peculiar phenomena that can be found lurking throughout the cosmos, and every day astronomers turn up new surprises. In this gallery, we take a look at some of the most outlandish objects in space.
Mysterious Radio Signals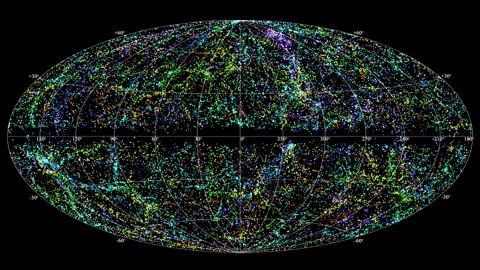 Since 2007, researchers have been receiving ultrastrong, ultrabright radio signals lasting only a few milliseconds. These enigmatic flashes have been called fast radio bursts (FRBs), and they appear to be coming from billions of light-years away (they're not aliens, it's never aliens). Recently, scientists managed to capture a repeating FRB, which flashed six times in a row, the second such signal ever seen and one that could help them unravel this mystery.